One Community Bank Announces Scholarship Program 

One Community Bank is proud to launch the One Community Bank Scholarship Program. This program offers $1,000 scholarships to three graduating high school seniors. This scholarship program aligns with One Community Bank's commitment of investing in the community. The eligibility requirements to apply for the scholarships are as follows: the applicant must be a graduating high school senior, must be in good academic standing, and have post-graduation plans at a 2-year or 4-year institution; a technical or trade school; or an apprenticeship program. The application process also requires an essay.

Community involvement is important to OCB and is a key component of the application and eligibility process. Applicants are asked to write an essay that demonstrates their role in making a positive impact in the community; and how the applicant's post-graduation plans will continue to support the community.

"One Community Bank is very proud to launch the new scholarship program." Steve Peotter, President and CEO stated, "Supporting the continued academic growth of young adults who have a dedication to their communities is a great way to give back."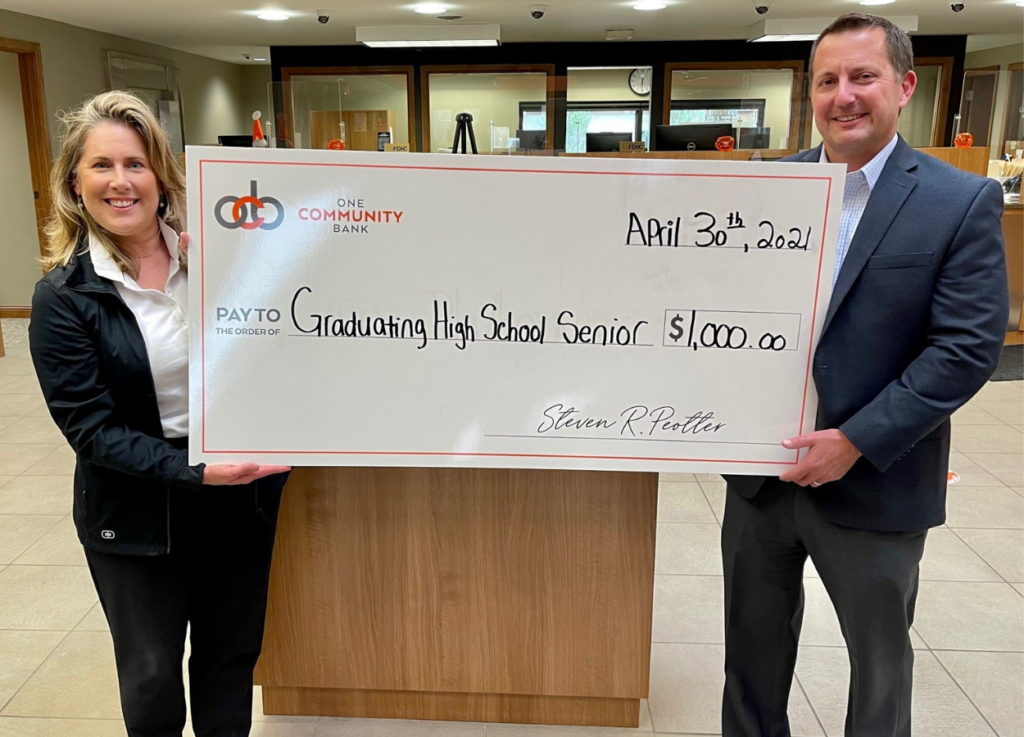 Click on the link below for the application and essay requirements.

One Community Bank Scholarship Application

Please submit application and essay to OCBscholarship@onecommunity.bank. The application deadline is May 21, 2021. The selected recipients of the scholarships will be announced in early June. Questions? Email OCBscholarship@onecommunity.bank

Feel Good Scholarships

Pictured: Cheif Talent Officer, Holly Heuer, and President and CEO, Steve Peotter.