OCB Attends The Legacy Hotel Groundbreaking in Green Bay, WI
On Tuesday, June 7 One Community Bank (OCB) colleagues Steve Peotter, President and CEO, Dan Carey, Senior Market President, and Aaron Anderson, Treasury Management and Business Development, were thrilled to attend The Legacy Hotel groundbreaking in Green Bay, a recent OCB financed project.
OCB is funding both the 1st mortgage construction loan and Property Assessed Clean Energy (PACE) financing for this project. PACE Wisconsin is a statewide Commercial Property Assessed Clean Energy (C-PACE) program. Each participating county adopts a model ordinance and elects to join in the PACE Wisconsin Program, which offers a uniform, open-market financing solution. OCB is proud to be the number ONE lender of PEACE financing in the state of Wisconsin.

"As a community bank that believes in sustainability, we are committed to doing our part to support renewable energies and socially responsible business decisions. We are thrilled to support this project" said Steve Peotter, President and CEO of One Community Bank.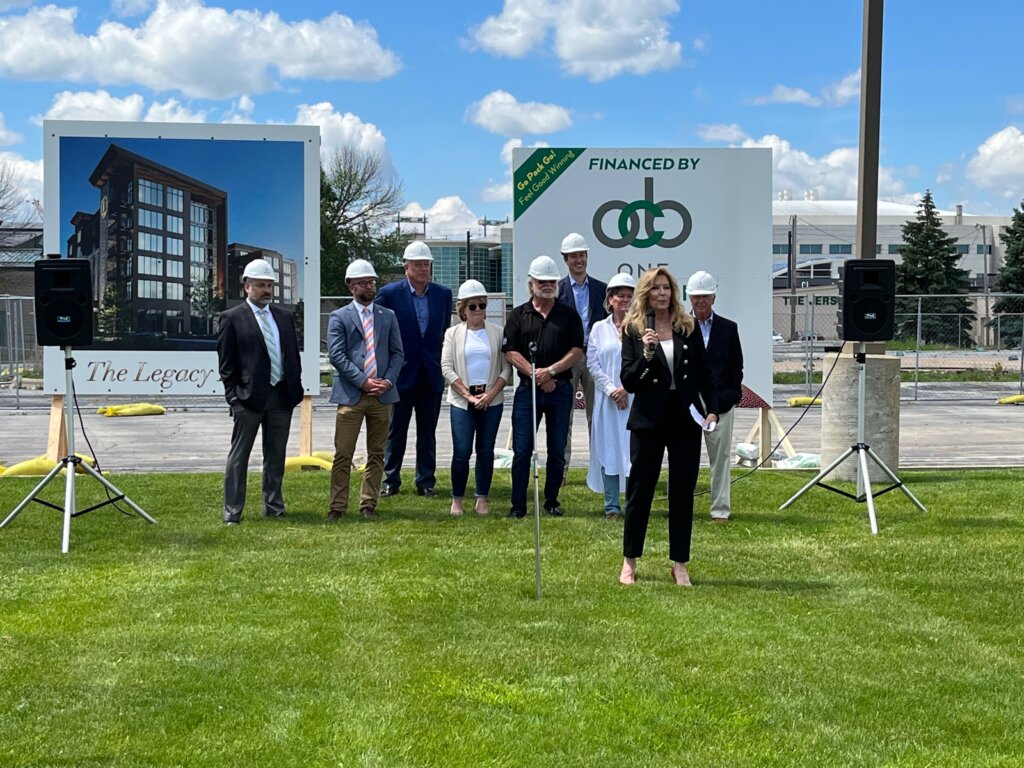 "This is certainly a project we wanted to be involved with. When we met Victoria, Dennis, and Rick we were amid a pandemic, but what we saw was a great project, in a great location and most importantly local commitment and local people behind it" said Dan Carey, Senior Market President of One Community Bank.

The Legacy Hotel is located in the Legends District on the former site of the Brett Favre Steakhouse. It is within walking distance of both Lambeau Stadium and the Resch Center.

The hotel will be an upscale luxury boutique that will serve as a social center. It will include a wedding venue, a roof-top bar, a spa, a coffee shop, a fitness center and more. The hotel will feature 64 studio suites, 11 classic one bedroom suites and 2 grand penthouse suites.

"Our service should be impeccable, and we want to be welcoming to everyone" said Victoria Fabry, Owner of The Legacy Hotel.

The hotel is expected to open in August of 2023.

Feel Good Groundbreakings